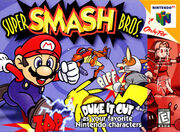 Super Smash Bros., known in Japan as Nintendō Ōru Sutā! Dairantō Sumasshu Burazāzu (ニンテンドーオールスター!大乱闘スマッシュブラザーズ, lit. Nintendo All Star! Great Fray Smash Brothers), is a crossover fighting game developed by HAL Laboratory and published by Nintendo for the Nintendo 64. It was released in Japan on January 21, 1999, in North America on April 26, 1999, and in Europe on November 19, 1999. Super Smash Bros. is the first game in the Super Smash Bros. series, and was followed by Super Smash Bros. Melee for the Nintendo GameCube in 2001 and Super Smash Bros. Brawl for the Wii in 2008. Super Smash Bros. was released for the Virtual Console in Japan on January 20, 2009, in Europe on June 12, 2009 and in North America on December 21, 2009. The game features Captain Falcon as a playable fighter, who is unlocked by meeting certain requirements. Super Smash Bros. received mostly positive reviews from the media. It was commercially successful, selling over 4.9 million copies, with 2.93 million copies sold in the United States, and 1.97 million copies sold in Japan.
Captain Falcon
Captain Falcon was one of four unlockable characters (along with Luigi, Jigglypuff and Ness). His in-game description was as follows:
A regular pilot in the great galactic race F-ZERO Grand Prix, Captain Falcon is skilled at collecting prize money. Much about his past remains hidden in shadow, but it's clear that many a villain hold a powerful grudge against him.
Works:

F-ZERO (SNES)
F-ZERO X (N64)
Community content is available under
CC-BY-SA
unless otherwise noted.