Super Arrow is a superhero who defends peace on Earth.
Biography
The superhero Super Arrow was only a rising star of the old F-Zero GP before it ended. His races were heavily endorsed by many merchants, not least of which was Lazlo Falconi who gave Super Arrow his pet owl, a mechanical cyber-pet that excels at relaying messages.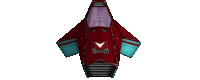 In the years that followed, Super Arrow was able to petition for the F-Zero races to re-open, but with new rules and higher safety requirements. In doing this he looked to the illegal underground racers for recruiting. It was here he encountered Zoda, who then became his greatest rival. At this time, he also met his future wife, Monique L'amoreaux, an expert racer who surpassed his own limited racing experience. The two have since entered the F-Zero races to stop Zoda and his reign of power.
He entered the last F-Zero race to chase his old enemy, Zoda. At the time, Super Arrow had never even driven before, so he had to hurriedly register for an F-Zero license just so that he could enter the race. Even so, he managed to race competitively by utilizing his superpowers. Zoda has entered the race again, and Super Arrow must do all he can to stop him and end his reign of terror. He is known for his relentlessly unforgiving attitude toward criminals, but when it comes to his wife, Mrs. Arrow, he's as docile as a puppy.
F-Zero GP Legend anime
Super Arrow appears in several episodes, where is depicted as a clumsy person for comic relief. He plays a major role in one episode when his wife Mrs. Arrow goes missing and enlists the help of Rick Wheeler to find her.
Appearances
Trivia
He admits that his wife is a better racer, though he admits he is too scared to say otherwise.
He says that his salary is low, though his job is protecting Earth.
Super Arrow's outfit resembles a traditional superhero costume, taking visual cues from superheroes such as Superman and Captain America. His voice is also boisterous and direct, resembling that of cartoon star and mountie Dudley Do-Right.
The exact nature of Super Arrow's powers is largely unknown. The only abilities he has thus demonstrated are super strength and the ability to fly.
Community content is available under
CC-BY-SA
unless otherwise noted.