Also called,"Dirty Joker", in Japan.
The Sly Joker has one of the highest speeds in racing today, thanks to its two side-mounted Mulger MAGMUM-8 Bore-up engines. It's only able to sustain its incredible speed for a few seconds though, so the key to success may be how well the pilot can use its blazing, but short-lived, boost. It's said that the old photos displayed in one room of the pilot's castle influenced the ship's design.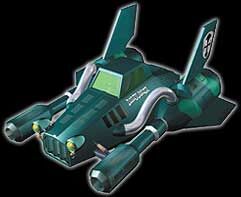 Max Speed Normal: 436 km/h
Max Speed Boost: 591 km/h
Boost Time (sec.): 3
Body Strength (/100): 75
Turn Performance: C
Turn Balance: A
Strategies
This machine is one of the two machines with maximum traction in F-Zero: Maximum Velocity. Take advantage of this to take turns quickly and evade other vehicles and obstacles.
This machine is notable for its unusual boost system. It has very high acceleration in boost mode, and drops speed at a very slow rate outside of boost mode unless the machine collides with something or the pilot uses the brake. Therefore, a good pilot must plan routes for boosting where the speed after the boost mode ends can be maintained. This maintenance of high boost speeds also applies to high speeds acquired by running over a dash plate. Another unusual characteristic is that this vehicle will drop speed at a higher rate if it hits a dash plate and is in or enters boost mode, so entering boost mode after hitting a dash plate is counterproductive until the machine's speed drops below 591 km/h. Since this machine also has good armor and traction, one could also hit the mines on the track for a speed boost with little cost.
This machine has a below average ability to jump when hitting a jump plate, so some shortcuts are made more difficult compared to other vehicles or made impossible.
Community content is available under
CC-BY-SA
unless otherwise noted.