Silence is a course introduced in F-Zero.
Overview
Silence is a planet in the F-Zero series, aptly named so due to the fact that nothing on the planet creates any noise.[1] Absolutely no life can be found on this planet. According to F-Zero GP Legend, no living creature calls this place home, which is why this world is deserted.
Appearance in F-Zero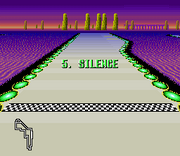 Marking its first appearance here, this course consists of 90-degree curves, and a shortcut with mines. It is the fifth and last race track in the Knight Cup.
Silence appears twice: the first one in the Jack Cup is a straightforward banking course with Dash Plates, the second one in the King Cup is narrow with many sharp turns and a wavy section with no barriers.
Appearance in Maximum Velocity
As homage to the original, it only appeared once here.
Appearance in GP Legend and Climax
It appeared in both games; GP Legend 5 times including in Jack's, Jody's, Lisa's and Goroh's Story Modes, as well as the Platinum Cup. While in Climax, it appeared four times, including its own Platinum Cup.
Trivia
Gallery
Soundtrack
References
↑ [1991-08-13] in Nintendo EAD: F-Zero instruction manual (in English). Nintendo, pp. 19. ""A truly soundless planet, where not even a single noise is heard.""

 
Community content is available under
CC-BY-SA
unless otherwise noted.