About the wiki
F-Zero Wiki is a community that aims to create the best resource for F-Zero. The F-Zero franchise are a series of futuristic racing games primarily developed by Nintendo's EAD division. Pilots race on circuits inside plasma-powered hovercars in an intergalactic Grand Prix at speeds that can exceed hundreds or even thousands of kilometers per hour. This series is more difficult and fast paced from you usual Mario Kart.
Featured Article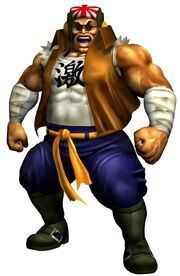 Samurai Goroh (

サムライ ゴロー

Samurai Gorō

?

)Samurai Goroh is the video game character of Nintendo's F-Zero video game series co-created by Takaya Imamura and Shigeru Miyamoto. The character's first appearance took place in the instruction manual of 1990 video game F-Zero, not until a later release has the character actually appeared in-game and his model conveyed by a computer-generated image. The character Samurai Goroh has been featured in the Smash Bros. video games from Nintendo which are the first times he has appeared outside the F-Zero series. The character has been seen outside the main series in F-Zero: GP Legend, F-Zero Climax, and Super Smash Bros. Brawl and Super Smash 4 as an Assist Trophy.Samurai Goroh wields a katana very well and is the father of Dai Goroh in the main series and the husband of Lisa Brilliant in the spin off series. Samurai Goroh's reason for joining F-Zero is because of his rivalry with Captain Falcon. Ironically, Goroh and Falcon were once cops in the Internova Police Force. Goroh races in an F-Zero machine called the Fire Stingray. While it was recorded to be the fastest machine out of the four original pilots, it is rumored that the Fire Stingray is actually stolen property
Read more on Samurai Goroh
Games




Background

In other series
Need Help?
If you need help you should speak to one of our admins who can help you in no time with setting up an account, creating a page, blog, or fourm, or getting onto chat. They can also help with banning people, fixing edits, deleting pages, or correcting anything.
If you're brand new make some edits to your user page to tell them what you like and who you are.
Plese do not liter the wiki with false or unknown Information.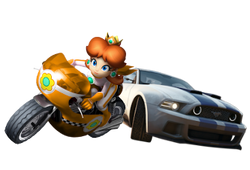 Community content is available under
CC-BY-SA
unless otherwise noted.