(Add strategy about how this machine's maximum traction opens up areas to boost in that are great for this machine but crazy for all other machines.)

Line 12:
Line 12:
 
 
 

== Strategies ==

 

== Strategies ==

−

This machine is a great beginner's machine. It has maximum traction, so use this to take corners quickly and avoid obstacles.

+

This machine is a great beginner's machine. It has maximum traction, so use this to take corners quickly avoid obstacles.

 
 
 

It has a low top speed.

 

It has a low top speed.

 
 
−

Plan for when to use its boost. Its boost lasts for a long time, so planning for where to use the boost is critical.

+

Plan for when to use its boost. Its boost lasts for a long time, so planning for where to use the boost is critical.

 

[[Category:Vehicles]]

 

[[Category:Vehicles]]
---
Revision as of 13:50, 9 April 2016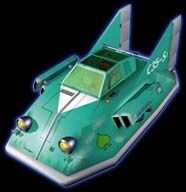 The J.B. Crystal is a vehicle in the F-Zero video game F-Zero: Maximum Velocity.
Female pilots love the classic design of the 1970s and 80s. In contrast to the older design, This machine is equipped with the very latest high-performance Louis RAM-JET lll engine. This combustion makes for a highly personalized machine with high stability and great cornering capabilities.
Max Speed Normal: 418 km/h
Max Speed Boost: 560
Boost Time (sec.): 9.5
Body Strength (/100): 63
Turn Performance: C
Turn Balance: A
Strategies
This machine is a great beginner's machine. It has maximum traction, so use this to take corners quickly, avoid obstacles, and boost in areas that a pilot would be crazy to boost in on other machines but are great locations to boost in for this machine.
It has a low top speed.
Plan for when to use its boost. Its boost lasts for a long time, so planning for where to use the boost is critical. This machine's maximum traction and long boost times allows you to boost in some narrow twisty roads like one found in the Twist Circuit in the Empyrean Colony that the CPU will slow other machines down in order to take, allowing you to make up many places if you fall behind even in the master difficulty level.