Line 8:
Line 8:
 

* Turn Balance: B

 

* Turn Balance: B

 

This Machine's Pilot, [[Kent Akechi]], claims to be the Son of [[Captain Falcon]], and if this claim is true, this is the [[Blue Falcon]] in the future. (Or at least an Up-Graded copy of the Blue Falcon.)

 

This Machine's Pilot, [[Kent Akechi]], claims to be the Son of [[Captain Falcon]], and if this claim is true, this is the [[Blue Falcon]] in the future. (Or at least an Up-Graded copy of the Blue Falcon.)

 
+

== Strategies ==

 
+

This is a well-balanced machine with few weaknesses.

 
+
 
+

Just be aware of your surroundings. Heavier machines piloted by the CPU and savvy players will try to ram this machine into the wall because the combination of being hit by those vehicles and being slammed into the wall will deal critical damage to this machine.

 

[[Category:Vehicles]]

 

[[Category:Vehicles]]
---
Latest revision as of 22:52, 8 April 2016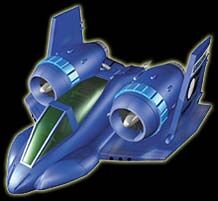 Max Speed Normal: 448 km/h
Max Speed Boost: 573
Boost Time (sec.): 7.2
Body Strength (/100): 66
Turn Performance: C
Turn Balance: B
This Machine's Pilot, Kent Akechi, claims to be the Son of Captain Falcon, and if this claim is true, this is the Blue Falcon in the future. (Or at least an Up-Graded copy of the Blue Falcon.)
Strategies
This is a well-balanced machine with few weaknesses.
Just be aware of your surroundings. Heavier machines piloted by the CPU and savvy players will try to ram this machine into the wall because the combination of being hit by those vehicles and being slammed into the wall will deal critical damage to this machine.
Community content is available under
CC-BY-SA
unless otherwise noted.