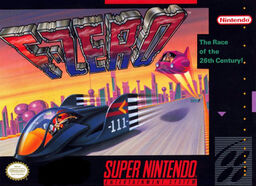 F-Zero
(

エフゼロ

Efu Zero

?

, F-ZERO)
is a futuristic racing video game developed and published by Nintendo for the Super Nintendo Entertainment System. The game was first released in Japan on November 21, 1990 and later in North America on August 13, 1991 and in Europe on June 4, 1992. The title was downloadable over the Nintendo Power peripheral in Japan
[1] It was also released onto the Nintendo Super System. The special edition of the game was released on the Super Famicom's Satellaview attachment.[2] In late 2006, F-Zero became available on the Wii's Virtual Console.[3]
As the first game in the F-Zero series, it was released in Japan as one of the two debut titles for the Super Famicom,[4] However, in the United States, this launch title was accompanied by more games.[5] F-Zero has been praised for its original scenarios and style of gameplay. As a result, the title has influenced numerous other racing games.[6][7][8]
Circuits
| # | Knight League (Easy) | Queen League (Moderate) | King League (Hard) | Ace League (Satellaview) |
| --- | --- | --- | --- | --- |
| 1 | Mute City I | Mute City II | Mute City III | Mute City IV |
| 2 | Big Blue | Port Town | Death Wind II | Big Blue II |
| 3 | Sand Ocean | Red Canyon I | Port Town II | Sand Storm I |
| 4 | Death Wind I | White Land I | Red Canyon II | Silence II |
| 5 | Silence | White Land II | Fire Field | Sand Storm II |
Characters
New Pilots:
Trivia
This game appears as one of the microgames in 9-Volt stage in the game WarioWare, Inc.: Minigame Mania.
An F-Zero jazz album was released on March 25, 1992 in Japan and features twelve songs from the game on a single disc composed by Yumiko Kanki and Naoto Ishida, and arranged by Robert Hill and Michiko Hill.
This game is also available as one of the playable Masterpieces in Brawl.
References
Community content is available under
CC-BY-SA
unless otherwise noted.