For the anime, see F-Zero: GP Legend.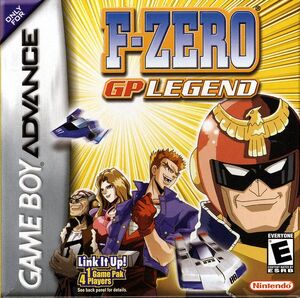 F-Zero: GP Legend (F-ZERO ファルコン伝説, Efu Zero Farukon Densetsu?) is a futuristic racing video game for the Game Boy Advance handheld. Developed by Suzak, it wasreleased in Japan in 2003, and in Europe and North America, in 2004.
F-Zero: GP Legend is the fifth released installment in the F-Zero series and the successor to F-Zero GX. Considered a reboot of the franchise, this game is based on the anime. F-Zero: GP Legend has gameplay very similar to Maximum Velocity.
Gameplay
F-Zero: GP Legend offers time trials, a Challenge mode, and four Grand Prix events. Link cable racing allows up to four players to compete together.
The game features over 30 playable characters and 8 playable characters in Story mode including newcomer Rick Wheeler, the evil Black Shadow, and series hero Captain Falcon. As in earlier games, a story-driven campaign leads players in a series of futuristic races through the diverse environments of many different planets. In the story, many different people can be used but most have to be unlocked.
New Characters
Lucy Liberty on Elegance Liberty
Misaki Haruka/Miss Killer on Moon Shadow
Lisa Brilliant on Panzer Emerald
E-Reader support
In Japan, F-Zero: GP Legend had support for the e-Reader. Swiping the GP Legend cards while playing the F-Zero: GP Legend game allowed for extra tracks, only available with the cards. However, this ability was not available in the US or European versions of the game, as the e-Reader proved unpopular in the US and was never released in Europe.
External links