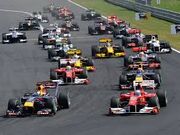 The F-zero Franchise is heavly based off of a modern day racing leauge known as formula one or F-One for short.
Back Ground
The "formula", designated in the name, refers to a set of rules with which all participants' cars must comply.[3] The F1 season consists of a series of races, known as Grands Prix (from French, originally meaning great prizes), held throughout the world on purpose-built circuits and public roads. The results of each race are evaluated using a points system to determine two annual World Championships, one for the driversand one for the constructors. The racing drivers, constructor teams, track officials, organisers, and circuits are required to be holders of valid Super Licences, the highest class of racing licence issued by the FIA. Formula One cars are the fastest multi-turn circuit-racing cars in the world, owing to very high cornering speeds achieved through the generation of large amounts of aerodynamic downforce. Formula One cars race at speeds of up to 350 km/h (220 mph) with engines currently limited in performance to a maximum of 15,000 RPM. The cars are capable of lateral acceleration in excess of five g in corners. The performance of the cars is very dependent on electronics – although traction control and other driving aids have been banned since 2008 – and on aerodynamics, suspension and tyres. The formula has radically evolved and changed through the history of the sport.
Community content is available under
CC-BY-SA
unless otherwise noted.