Digi-Boy's real name is Terry Getter, and he's a young genius currently attending Einstein Academy. While he's still just a kid, he's been dubbed Digi-Boy because there is no digital device he can't deftly use-he's even invented many of his own. He's also analyzed every past F-ZERO race and has subsequently devised a perfect equation to work with his self-built machine so that he can win the next race.
He's extremely interested in Astronomy and it is the key to all of his scientific research. However, he's had little success with girls. There is a girl in his class named Sharon, but nothing has gone quite according to his simulations.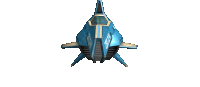 He's closely analyzed all of the F-Zero races. From watching them he's developed an equation that he used in his Cosmic Dolphin, a machine he designed himself. He developed simulations of the F-Zero races to develop a winning strategy. As a result, his main reason for entering the F-Zero races is to see if his simulations are correct.
trivia
digi boy dosen't appear in story mode.
Theories
Since he can't seem to get Sharon to like him, his last name (Getter) is likely a pun on the phrase "get her."